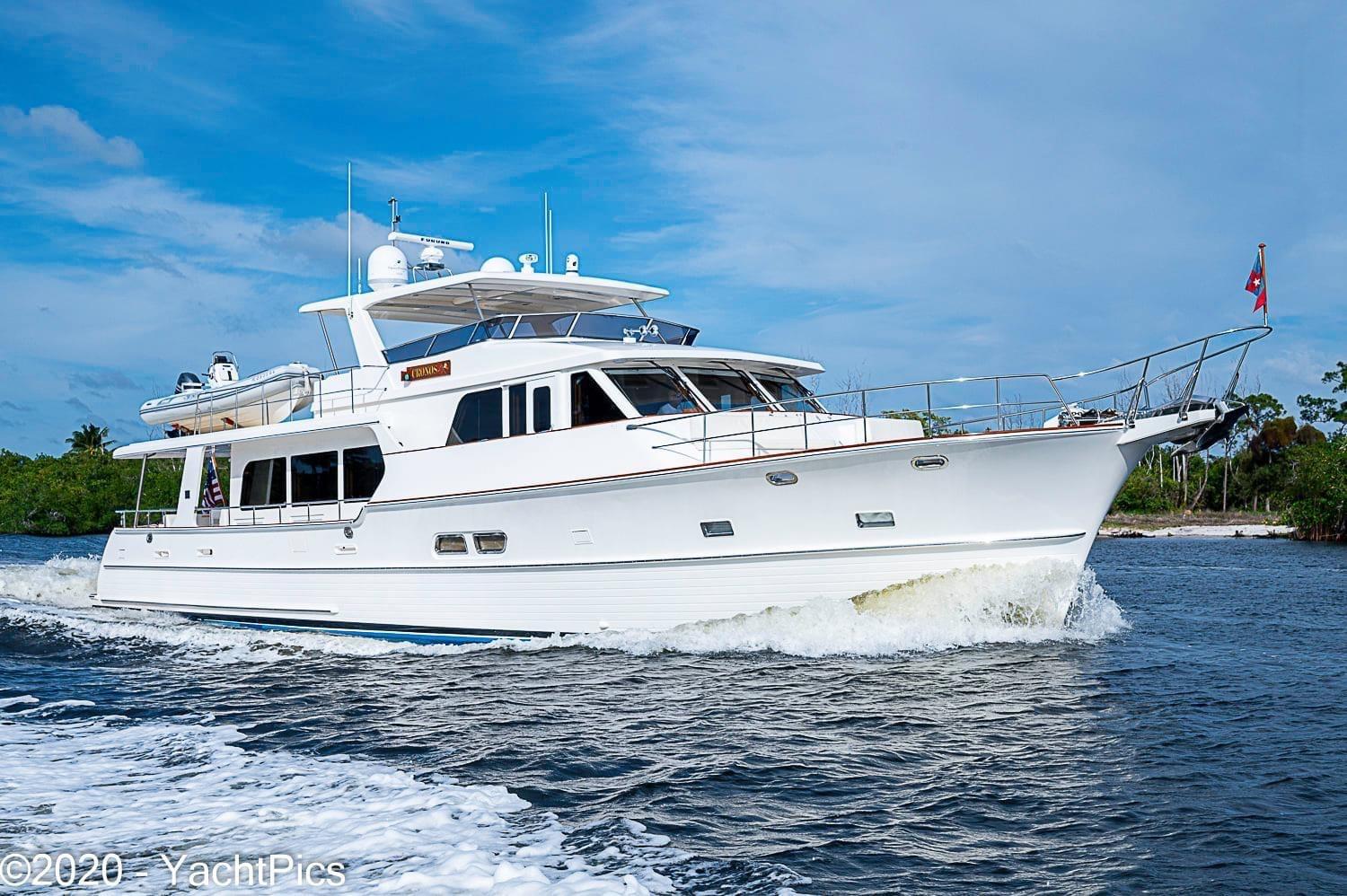 72 Aleutian RP 2016
CRONOS - $3,795,000
Sales Rep: Steve Fithian
Phone: 954-383-1999
CRONOS is a one-of-a-kind yacht designed for people who enjoy water adventures AND creature comforts. She was designed, built, executed and maintained by an exceptional cruising couple with the means, knowledge and time to create the ultimate owner-operated offshore-capable cruising vessel. Twin Caterpillar C-18 A-cert A-rated engines with 1150 hp each give CRONOS the ability to top twenty knots (if one is in a rush to beat weather, currents or life's situations). She also has the fuel efficiency to complete an offshore run from Jupiter, FL to Stamford, CT non-stop in 76 hours. Fuel capacity is 2800 gallons, giving you 1,250 miles of range at 10 kts with 10% reserve. Top cruise 19 kts at 80% load, with a top speed of 21.5 kts.
CRONOS' owners were onboard for weeks at a time at the GB factory during the build, supervising every aspect of the construction and working with an exclusive team of architects and engineers at Grand Banks. Right down to the electricians, plumbers, carpenters and varnishers: only the very best craftsmen in the factory were involved in the build. That same standard has been brought to the maintenance program, with an exacting level of attention and a thorough nature of the maintenance program. All systems onboard are currently flawless.
Every aspect of CRONOS' layout was custom-designed to maximize efficiency and translate luxury space within the 72-foot scope. The master has a king-size berth with his and hers heads connected by a full-size 60-PSI water pressure shower. The en suite VIP forward has ample storage space, a full-size head and cozy feel. The third cabin, also en suite, is perfect for guests in separate berths. There is an extremely nice captain's quarters too, with private access for deliveries and longer runs which may require assistance. The salon boasts an ingenious formal dining table layout, full technology systems and open view with raised ceilings. The pilothouse has a gourmet chef's galley and owner-designed rider bench with fold-out table for friends, family or crew – also perfect for morning coffee. The flybridge boasts twin electric grills, sink, additional icemaker and a very open social seating layout with plenty of hidden storage. The bridge helm is fully-redundant as well, with full electronics, separate VHF, stabilizer, autopilot and full engine monitoring. These are just a few of the highlights which embody the special nature of this offering.
CRONOS has taken her owners as far North as Nova Scotia and as far South as the Leeward Islands - and is regularly seen prowling the far Bahamas; yet she was still just as comfortable hosting the race committee for the historic J boat races off of Newport, RI  or enjoying a sunset on Long Island Sound. Designed to run by owner-operator or by captain/crew - enough space for support but manageable enough for two people.
More than 200 professional photographs are available upon request. 
The Yacht
Stepping onboard CRONOS, a teak decking in the cockpit and on the swim platform welcome you. For safety and swim, you'll find mega-yacht style staple railing on the swim platform as well as a deployable swim ladder. Twin staircases and doorways lead from the swim platform to the covered aft cockpit. There are two end-table cabinets at the far aft portion of the salon, both to port and starboard - designed to house important items which are either commonly needed or to be accessed quickly from either inside or out. A large inch-and-a-half thick bullnose varnished teak table stands ready for use in front of the large forward-facing settee, supported by stainless steel pedestals. Freeman double sliding doors lead into the open salon. The salon sole is solid teak planking, surrounded by an accent of holly all around the exterior edge of the sole. All the cabinetry are solid teak and of a traditional, raised panel design. All catches are pushlock and dead-bolt style for added safety.
The salon has a large L-shaped matched leather settee stretching along most of the starboard side of the salon covered in cream colored leather. There are two cabinet-style movable cube coffee tables with storage, and two swiveling barrel chairs stationed opposite to port. The entertainment left is custom-built on the port side. The majority of the sole is protected by a custom cut matching cream colored carpet.
Forward in the salon is the formal dining area, with another generous L-shaped settee (also matched leather) complimented by two custom dining chairs in teak and leather. The dining table is of a similar design to the cockpit table, but only slightly more formal with beautiful inlay design. Opposite the dining to starboard is a bar and china storage cabinet, as well as the main electric panels and service. Forward of the dining area is a custom display and storage cabinet.
Up three short steps to the galley one is greeted by a near surround of glass and an open flowing feeling to the space. The galley is immediately to port with four burner electric stove, convection microwave, Miele dishwasher and a compliment of six (6) Sub Zero fridges or freezers to say nothing of the abundance of storage for a boat with this type of offshore cruising capability.
Directly forward of the open galley is the rider bench facing forward, set at helmseat height. Easily large enough for three additional people to enjoy the view or assist the captain in keeping a safe passage. There is also a custom table for light dining, work or navigation. The Helm is on left, with a double Stidd helm chair as well as the full suite of electronics and redundant systems. There are port and starboard submarine-style doors to quickly access the side decks.
Arriving below deck, there is a landing and companionway leading forward and aft to the various cabins. The separate washing machine and dryer are ingeniously tucked into a space inside the day head. As you walk further aft, you enter the mid-beam master. The spaces were painstakingly poured over with the desire to maximize efficiency while still delivering an aesthetic design, where spaces flow effortlessly but house tremendous utility and storage. There are private his- and her- mirrored heads to port and starboard of the king-size master berth, with custom curved cabinetry, surrounding marble counters and high-end fixtures. The shower is glass, on-leftline and of generous proportion. There is a large, well-organized full-length closet to starboard, numerous drawers and a settee bench in the master. A television is mounted on the forward bulkhead.
The en suite, queen-size VIP at the bow easily rivals the comforts of master cabins, with hanging lockers, storage cabinets with shelving and drawers.  Between the two cabins is the third stateroom. This was designed with twin berths in order to maximize flexibility in handling family and crew. The berths and storage work beautifully here as would be expected. This cabin is also designed with an en suite private head and shower.
In going back up the stairs there is a second curved companionway going upwards from the pilothouse on the aft starboard section. Once one gracefully arrives up on the bridge through the polished stainless steel hatch,you are immediately aware that this is more than just a running bridge and dinghy storage.
The helm station is on leftline with a generous amount of space for the dashboard electronics to be laid out in a clean and well-proportioned manner. The helm seat is again a double Stidd helm. There are two large L-shaped settees facing two yacht style tables with an egress down the leftline. This entire space is underneath the lighted hardtop and crystal clear three sided enclosure. Walking aft there is a banquette with the two Miele grills and a sink and ice maker. The hydraulic telescoping crane easily deploys the sport boat style inflatable dinghy in a matter of a couple minutes. There is a direct access staircase to the cockpit which, like the stairs to the pilothouse, are easily navigated walking style rather than having any sort of a ladder feel to the egress. The entire space of the bridge is generous and quite open. There is plenty of room for future installation of more storage of gear, or as it is currently configured there is just a great feeling of openness and space for entertaining. The non-skid surfaces on the bridge are finished in traditional "Moondust" colored Awlgrip. Whether the plan is to entertain a large group or just to get a quiet moment with a book and a penthouse view of the harbor…CRONOS' bridge is a major asset to an owner's time onboard.
The broad shouldered walking side decks are also finished in Awlgrip non-skid in the forward areas of the boat. As you come to the Portuguese bridge, take the time to notice the thoughtful and surprisingly large amount of space for storage which was designed into this portion of the deck. It is these thoughtful details which time and again set CRONOS apart from the average cruiser. Going through the leftline double wing doors to the foredeck, one is flanked by two double custom settees which face forward for the breeze. Again the deck is open with stainless steel hatches as well as oversized cleats and chocks. There are two large lockers for dock line and fender storage mirroring the sides of the windlass. The pulpit was designed with enough space to handle two meaningful sized anchors with dedicated storage for the two sets of chain.
Turning around here do not miss the electronics antenna layout up on the hardtop and pilothouse visor. Once again it is the subtle details of the function complimenting the aesthetic form and balance that make CRONOS so special.
While hard to truly encompass all the details at least a few of the highlights are...
She was built with all fully hand varnished teak bulkheads instead of the less expensive vinyl which has become the norm. The potable water system was upgraded to 22ml 3/4 inch household level plumbing driven by 60 psi for water pressure with a back-up. All of the closets were built with accessible screws for the hull side panel for easy access for future technicians to trouble shoot...there are no inaccessible areas of the boat. All of the furniture was stick built to maximize the potential envelope for storage. There is a single stand alone 9kW air conditioning unit dedicated to the master so that at anchor when hot one can leave that sole A/C unit on off of the inverter all night and one does not have to run the generator. Spare pre-cut hoses for all of the engine plumbing. All the below decks hatches were cut without the finger rings so no stubbed toes and a cleaner appearance. All the under sole areas were set with lighting and teak grate flooring so that they can be used effectively as storage. The crane is set on leftline aft so that one can launch the dinghy all three sides. Custom overhead folding dish lockers to maximize the view as well as the storage for the galley. There is a magic corner storage unit in under corner of the galley: just a secret weapon for the galley dry goods storage. Ocean Air blinds throughout the upper decks. Canvas covers for all exterior including the toe railings. Bow and stern shorepower. Bow and stern thrusters as well as windlass and crane are all hydraulic in lieu of the much less expensive or reliable electric units. PTO for boat engines assuring reliable cruising. With the deep freeze in the captain's quarters there is enough food storage for six people to travel independently for three weeks. Of course supported by the 1800 gallon watermaker; the fresh water is essentially unlimited. Nandi dive compressor gate bound with custom install in vented compartment. Literally there are spares for EVERYTHING.
The owners of CRONOS worked tirelessly to create a tremendous cruising platform...the buyer of CRONOS gets the benefit of all of that effort in the form of extremely reliable cruising well into the distant future.
Maintenance
Maintenance program
Vessel
Full oil change every 3500 gallons of fuel used Transmission oil and filter change every 500 hours Main impellers every 500 hours Full Genset service every 250 hours Genset impellers every 500 hours Full wax, with topsides every 60 days Full was, all deck areas monthly Stainless 2x/month Varnish with Awlbrite finish every 9 months Bottom and propped every 12 months Interior teak oil every month Full A/C descale every 12 months A/C maintenance, all air handlers every 3 months All bilges cleaned monthly All service areas checked monthly Water tanks, gray and black water tanks routinely flushed All deck compartments cleaned and detailed monthly Rain-X monthly Exterior teak cleaned gently, no sanding or oil. Freshwater hose frequently. Boat washed weekly All exterior wood covered when not in use All thru-hulls exercised and serviced monthly
Tender
Serviced every 100 hours Wax & stainless monthly
Mechanical Highlights
Cat C-18 A-Cert 1150 hp All fluids, filter and impellers current Full maintenance records Recent oil sampling available Twin disc transmission 2:52:1 Sea Torque shaft system with spare bearing/fluid kit on board Glendinning controls with wired remote (2 stations) Twin Onan MDKDR 21.5 gensets 2200 hours port, 2070 hours starboard All service current Naiad 38hp bowthruster Naiad 25hp sternthruster Naiad 302 stabilizer system Muir dual hydraulic windlass PTO off both engines Dometic three chiller (60k BTU each) system Mastervolt 24v charger Mastervolt 12v charger Mastervolt 4K inverter Separate 9k BTU 110V AC unit for master cabin ASEA power systems transformer AC12 takes 170-520 volts at 50 to 60 Htz output 120/240 volts
Equipment List
Engine Port & Starboard: Caterpillar C18 ACERT 1150MHP Transmissions Port & Starboard: Twin Disc MGX5135A, 2.52:1 Main Generator: Onan Additional Genset: Onan Engine Batteries: AGM Lifeline Service & Inverter Batteries: AGM Lifeline Port & Starboard Generator Batteries: wet cell Battery Charger 24V & 12V: Mastervolt Inverter: Mastervolt DC Converter: Newmar Isolation Transformer: ASEA Power System Step Up Transformer: JBT Transformer Port & Starboard Engine Mufflers: Centek Industries Port & Starboard Propellers: Faster Propulsion Systems Propeller Shaft and Shaft Coupling Port: Sea Torque Rudders: Teignbridge Rope Cutters: Quick Cutters Engine Room Sound Package: Upgrade Rockwool & Inc Port & Starboard Engine Fuel Filter: Parker Port & Starboard Engine Seawater Strainer: Groco Generator Seawater Separator: Centek Industries, INC Port & Starboard Generator Seawater Strainer :Groco Air Conditioner Pump Seawater Strainer: Groco Port & Starboard Genset Fuel Filter: Racor Oil Change Pump:Reverso Engine Room Vent System Port FWD & AFT: Delta Systems Inc Engine Room Vent System Starboard FWD & AFT: Delta Systems Inc Fuel Priming Engine Port FWD & AFT: Reverso Fuel Priming Engine Starboard FWD & AFT: Rerverso Fuel Polisher: Reverso Fire Extinguisher: Fireboy Fire Systems Carbon Monoxide Detector: Seafire Zinc Anode: B-9 ZAP Air Conditioner Sea Water Strainer: Groco Chiller Seawater Pump: Scot Motor Pump Chiller Pump Expansion Tank: Dometic Corp, Marine Air Chiller Water Circulation Pump: Scot Motor Pump Chiller Air Conditioner Compressors 1, 2 & 3: Dometic Corp, Marine Air Air Conditioner Blower FWD Cabin: Dometic Corp, Marine Air Air Conditioner Blower Port & Starboard Salons: Dometic Corp, Marine Air Air Conditioner Blower Galley: Dometic Corp, Marine Air Air Conditioner Blower Pilot House: Dometic Corp, Marine Air Air Conditioner Blower Port Cabin: Dometic Corp, Marine Air Air Conditioner Blower Master Cabin: Dometic Corp, Marine Air Air Conditioner Blower Crew Cabin: Dometic Corp, Marine Air Air Conditioner Master Cabin (self contained): Dometic Corp, Marine Air Cabin Lights: Foresti & Suardi Interior Courtesy Lights: Hella FWD Cabin Reading Lights: Quick Marine Lighting Master Cabin Reading Lights: Quick Marine Lighting Port Cabin Reading Lights: Metal Style Cuddy Cabin Reading Lights: Metal Style Exterior Courtesy Lights: Hella Exterior Deck Lights: Foresti & Suardi Navigation Lights Port & Starboard: Hella Marine Navigation Light Anchor: Hella Marine Navigation Light Bow: Hella Marine Navigation Light Stern: Hella Marine DC Engine Room Lights: Hella AC Engine Room Lights: Aquasignal Underwater Lights: Sea Vision Flood Lights: Lumitec Search Lights: ITT Jabsco Outlet & Switches: Vimar GFCI Outlet: Vimar Washer & Dryer: Asko Head/Galley/ Engine room Blower: Jabsco Air Horn Compressor: Kahlenberg Air Horn: Kahlenberg Windshield Wiper: Exalto Davit Cren: Steal Head Marine BBQ Sets on fly-bridge Port & Starboard: Miele Water Maker: Aquamatic Sea Recovery Water Maker Pump: GP Companies Vacuum Unit: Douvac Cable Master: Glendinning Shower Drain Pump: Whale Electric Bilge Pump: Rule Hi-Bilge Switches; Rule Windlass: Muir Primary & Secondary Anchors: Ultra Marine Head System: Tecma Head System (Crew Cabin): Tecma Macerator Pump Grey Tank & Holding Tank: Sealand Technology Holding Tank Indicator (Master Cabin): Offshore Holding Tank Indicator (Cuddy Cabin): Offshore Macerator Pump Cuddy Cabin: Dometic Engine Control Salon: Glendining Products, LLC Engine Control FB: Glendining Products, LLC Engine Control Processor: Glendining Products, LLC Handheld Control Processor: Glendining Products, LLC Handheld Control: Glendining Products, LLC Engine Instrument Display Salons Port & Starboard: CAT Marine Power Display Engine Instrument Display FB Port & Starboard: CAT Marine Power Display Hydraulic Steering Cylinder: Capilano Seastar Power Pack Steering System: Hypro Helm Electronic Steering Control (Lower & Upper Helm):Hypro Hydraulic Heat Exchanger: Thermal Transfer Products Stabilizer Actuators Port & Starboard: Naiad Dynamics Pump Pressure Control Manifold: Naiad Dynamics Central Hydraulic Reservoir: Naiad Dynamics Stabilizer Fin Actuators Port & Starboard: Naiad Dynamics Bow & Stern Thruster: Naiad Hydraulic 3 x 25" KEP Screens for Lower Helm Furuno TZT Black Box System for GPS Radar Sensor: Furuno Multi Function Display on Pilot house Port & Starboard: KEP- Marine VHF Handset Master Cabin: Icom VHF Marine Transceiver on PH: Icom VHF Marine Transceiver Handset on PH: Icom VHF Hanset Flybridge: Icom VHF Antenna 8': Shakespeare VHF Antenna 4': Shakespeare GPS Antenna: Furuno 6' Open Radar Sensor UHD: Furuno CAM 100 (Engine Room) 2 PCS: Axis Communication CAM 100 Cockpit Reverse Image: Axis Commnication Thermal Camera Control Salon: Flir Thermal Camera Control Flybridge: Flir Autopilot Display on Salon: Simrad Autopilot Display on Flybridge: Simrad Autopilot Pump: Simrad Compass Salon: Ritchie Compass Flybridge: Ritchie Rudder Feedback Unit: Simrad Hailer Speaker: MG Electronics WIFI Antenna: Bullet WIFI Router: Alfa Network Satellite Telephone: KVH Satellite Telephone Receiver: KVH DC Fresh Water Pump: Groco, Paragon AC Fresh Water Pump: Head Hunter Fresh Water Accumulator Tank: Groco Fresh Water Heater 1: Seaward Products Fresh Water Heater 2: Seaward Products Fuel Tanks Port & Starboard (Center Engine Room): Grand Banks Malaysia Fuel Tank Sender: Maretron Water Tank: Grand Banks Malaysia Water Tank Sender: Maretron Holding Tank: Grand Banks Malaysia Grey Tank: Grand Banks Malaysia Holding Tank on Cuddy Cabin: Dometic Holding Tank Sender on Cuddy Cabin: Maretron Tanks Monitor at Salon: Maretron
Hull, Exterior & Interior
Sole Varnish (Matte Finishing): Inchem- Intel Chem Industries Sole Varnish Base Coat: Inchem- Intel chem Industries Interior Varnish Base Coat: International Interior Varnish Final Coat: International Exterior Varnish (Gloss Finishing): KOP- COAT, INC Hull Gel-coat: CCP-COOK Composites & Polymers (White) Bottom Hull Anti Fouling: International (Navy Blue) Boot-stripe Paint (Finishing): AWL Craft (Flag Blue) Underwater Metal Paint: Oceanmax Interior Paint: International (Ivory) Exterior Paint: International (White) Exterior Paint, Aluminum Parts: AWL Craft (White) Nonskid Paint: AWL Grip (Moondust)
Tender
2016 AB-15VSTw/ 70hp Yamaha 4 stroke 120 hours Garmin chartplotter Integral fuel tank Full cover
Appliances
Electric Cook top: Miele Microwave: Miele Microwave at Cuddy Cabin: Sharp Dishwasher: Miele Refrigerator: Subzero Freezer: Subzero Fridge & Freezer: Subzero Salon Ice Maker: U-Line Flybridge Ice Maker: U-Line Galley Sink: Alcor System
Audio
Cockpit & Flybridge Speakers: Fusion Cockpit Stereo Marine Wire Remote: Fusion Salon Stereo Media Center: Bose Subwoofer: Bose Salon Speaker: Bose Salon TV Lift: Venset A/S Salon TV: Samsung Master Cabin LED TV: Samsung Cuddy Cabin LED TV: Samsung Cuddy Cabin TV Receiver: Directv Satellite TV: KVH Satellite TV Receiver: KVN
Exclusions
Owners' personal belongings. A complete list will be provided upon request.
Disclaimer
The Company offers the details of this vessel in good faith but cannot guarantee or warrant the accuracy of this information nor warrant the condition of the vessel. A buyer should instruct his agents, or his surveyors, to investigate such details as the buyer desires validated. This vessel is offered subject to prior sale, price change, or withdrawal without notice.
customContactInformation
Contact Steve Fithian at Grand Banks Yachts directly for all the details at 954-383-1999 or steve@stevefithian.com 
Trade Ins considered
Inquire about this yacht
Search more yachts